Dialog Marketing
New channels and technologies are making communication with various target groups increasingly complex. This makes it all the more important to develop a strong concept that can be executed throughout the entire customer journey and across all channels.
To establish this strong concept, we first analyse the needs and motives of your target group and the preferred communication channels. We integrate current trends and technologies and consistently digitalise – as long as this approach grabs peoples' attention, inspires them and bonds them! Sometimes a charming "physical" solution is a better solution or door opener: for example, a high-quality print mailing to strengthen a customer relationship or as the starting signal for a cross-media campaign.
Our strength lies in consistent cross-media and cross-channel thinking. Our specialists develop customised digital and analogue cost-optimised solutions, from acquisition mailings for new customer acquisition to multi-stage dialog measures and customer loyalty programmes.
Companies of all sizes trust our experience, expertise and strong network of partners. Through dialog, we help to identify and develop market potential with the right strategy, the right message and the right channels.
Strategic Consultancy
Cross-media Dialogue Marketing
Social Media / email Marketing
CRM
Data Management
Print and Fulfilment Management
Success and Cost Monitoring
and much more
Customer:

Dell

Project:

Cross-media door-opener campaign

Task:

Consultancy, concept/text, design and print/online realisation including webcast hosting
Customer:

Samsung

Project:

Dialogue marketing for Galaxy NX camera launch

Task:

Conception and realization of dialogue measures for various target groups
Customer:

Dell

Project:

The workplace of tomorrow: campaign for medium-sized businesses

Task:

Concept for and realisation of a direct marketing campaign for medium-sized businesses
Customer:

Porsche Middle East & Africa

Project:

Dialogue programme for the launch of the Porsche 911 Carrera

Task:

Concept for a cross-media dialogue programme. Objective: Making contact with potential customers, participation in the launch event and ongoing follow-up dialogue
Customer:

Danone Waters

Project:

Volvic Coffee promotion campaign

Task:

Consultancy/format development, production and lettershop/distribution
We realised a promotion campaign for the market launch of Volvic Coffee, a new Volvic mineral water with a coffee infusion and fruit flavour. The objective was to introduce Volvic Coffee as a new, premium-quality product and increase awareness.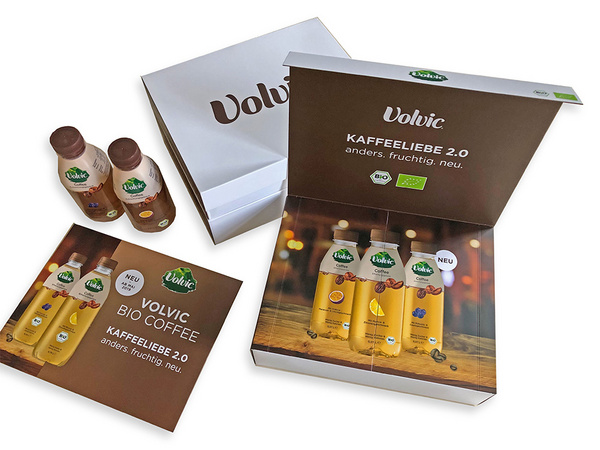 The exclusive presentation box contains 3 different Volvic Coffee flavours and – with the addition of a classy sales folder – supports the eye-catching presentation of Volvic Coffee.